Raising Awareness of Rare Chromosome Disorders
​June 22nd is Rare Chromosome Day, which is all about celebrating those who live with a rare chromosome disorder as well as raising awareness on a subject that is still relatively unknown.
This is a subject that is very close to our hearts here at Nurseplus Care at home; we support all kinds of individuals, some of whom live with chromosome disorders, so we want to get behind the efforts in raising as much awareness as possible.
Leading our awareness efforts is Laura, our Branch Manager in Norwich. Laura has first-hand experience in this area as her son, Carter, has a rare chromosome disorder that affects his life in multiple different ways. We spoke to Laura about the conditions that Carter lives with and why it is so important to raise awareness on these rare chromosome disorders.
So, what are chromosome disorders?
Every person should have 23 pairs of chromosomes which contain our DNA and genes, however sometimes a baby can be born with either a part of a chromosome deleted or a duplicated chromosome which can cause them to have a mixture of different medical conditions. As there are 23 sets of chromosomes with each chromosome having an internal structure in which sections can be deleted or whole chromosomes can be duplicated, therefore there are many different variations of chromosome disorders. Down Syndrome is an example of a chromosome disorder, this is where the chromosome 21 is duplicated, which leads to delayed development and multiple other medical conditions. Down Syndrome is one of the conditions that as a society we know more about and what to expect when you have a child with the condition, however, there are many other chromosome disorders that are so rare that we still don't know how they will affect someone as they progress throughout their life.

It is important to point out that whilst some chromosome disorders can be inherited if the parent has a deletion or duplication in their chromosome make up, this is not always the case; it can quite often occur by chance when genetic material is being passed from parent to child.
​
Can you tell us about Carter and the chromosome disorder that he has?
Carter is 5 years old and he's an extremely happy little boy; he brings joy to everyone who meets him. He is obsessed with trains, they're his special interest so we probably spend around 80% of our time doing things to do with trains; we watch trains on YouTube, we go to train stations, he can memorise everything to do with train!
Carter has a chromosome condition called 16p11.2, so that's where part of his 16th chromosome is essentially deleted; he has a deletion rather than a duplicate chromosome. It is a very rare condition which is why it's so important to have awareness days like this as there are so many families out there with children with different types of these really rare conditions. It really is a guessing game with these conditions, you don't get told anything about it as there just isn't a lot of information out there about it all. It's a really long process to research these things, problems come along as you go. We know what the obvious things are, so it's relevant to learning disabilities and autism. He has a neurological speech disorder and he suffers from seizures, but we also know he has a lot of complex medical needs which is the same for a lot of people with chromosome or genetic disorders.
I'm so passionate about raising awareness for this as it will help raise funding for people to research into these conditions and offer. This allows us to equip families more in the future when they are told that their child has a chromosome disorder; hopefully there will be more guidance on how to prepare and support a child to live as normal life as possible. I'm really happy that Carter really does live a normal life; he does go to a specialist school but he is just like a normal child outside of all his medical appointments. He's just a crazy little 5 year old who likes being outdoors, he loves mud and trains; which makes him a typical little boy!
​
How has Carter's condition affected your family life?
I am essentially a parent-carer now, we have a really big multidisciplinary team of medical professionals involved with Carter. The main impact for Carter is the learning disabilities and his speech disorder; so Carter relies on signs or visual aids to communicate his needs. He does give his speech a really good go, but unless you know him really well you will struggle to understand what he's saying. In terms of medical conditions he's got neurological issues, kidney problems and growth issues, so it's a really wide spectrum. As it is so rare we have no solid answers as to what it will look like as Carter gets older but right now we just deal with it as it comes. Our lives are essentially balancing work, the job as a parent, his medical appointments and just Carter's life because every day can be different. You can have good days and there are some not so good days.
​
Could you put it into words what it's like being a parent to a child with a rare condition?
It's a little bit of a journey, as any parenthood is, but especially when you've got a child who's got differences. Being completely candid, it can be really isolating and lonely, which is why it's so important that we have support networks. I know within Norfolk that we have some really lovely groups where we can speak to other parent carers who have children with similar conditions. We were also put in touch with Unique very early on, who provide a lot of support and guidance. Having a child with a rare chromosome disorder is challenging at points, but then the rewards feel so much bigger because the amount of work he puts into things and just how brave and resilient he is. So yeah, it is challenging but the milestones when we hit them, maybe a year or 2 years later, are just incredible.
​
Speaking of milestones, are there any that you want to mention?
Absolutely, with Carter's speech there was a point where we thought he might be non-verbal, but he did stand up in a school assembly recently in front of his peers and some parents. He had 2 words to remember and he said those 2 words confidently to everyone. It's a huge achievement for him, we didn't think he was going to be able to speak, let alone have the confidence to speak in front of so many people. It was a really special moment for everyone – we were all delighted.
​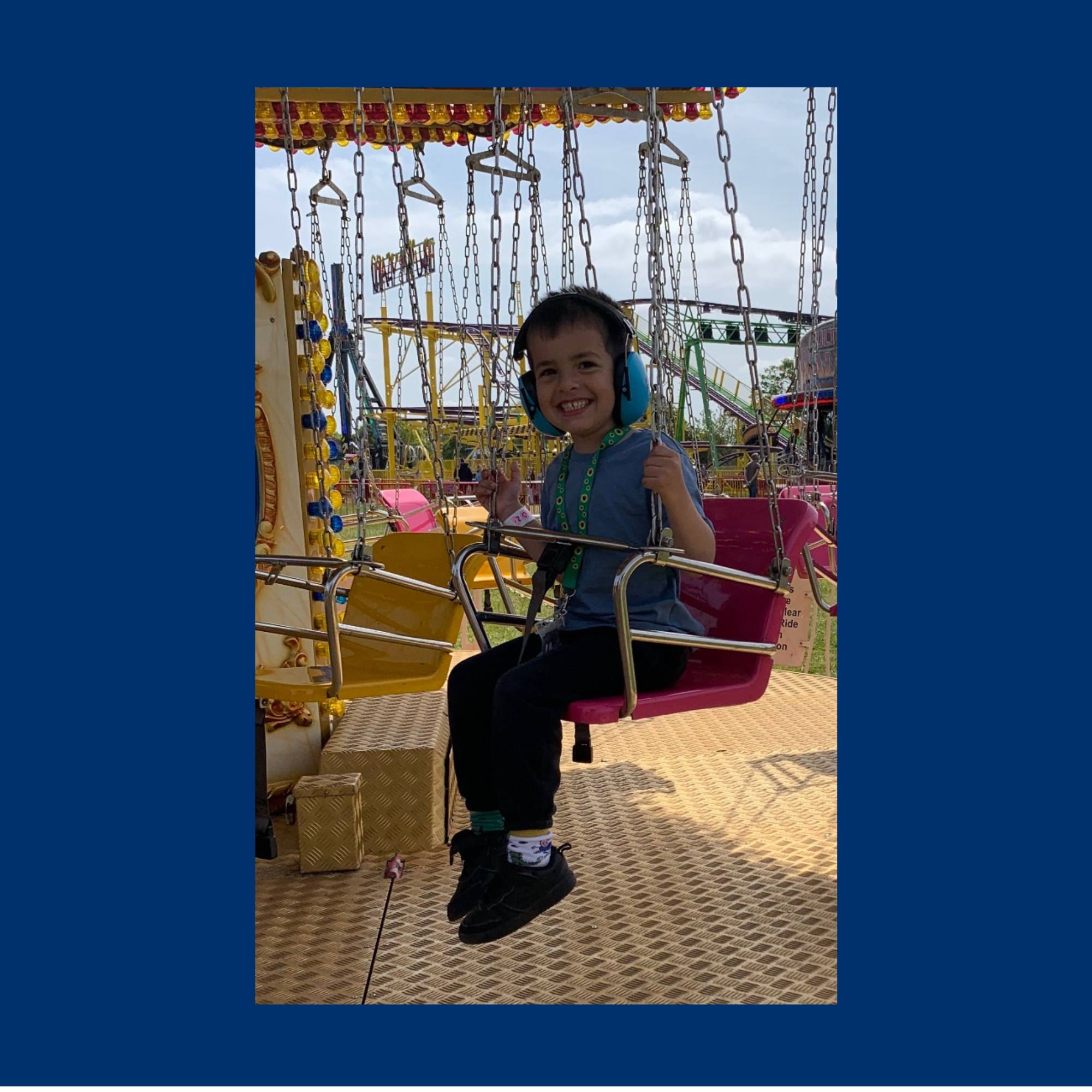 ​
What are you doing as a branch to help raise awareness?
Carter goes to a specialist school so we have reached out to them and they are going to do a non-uniform day; the official colours for Unique are blue and yellow so all the children can join in with that. We are also encouraging all staff in branch to join in and wear something blue and/or yellow.

We're going to hold a coffee morning/bake sale in branch and will encourage not just our clients and carers to attend but we're also going to invite some local support groups along. We've been going round to local day centres to let them know what we'll be doing.

We've been letting the services we work with know all about Rare Chromo Day and what we are doing, we work with a lot of learning disability services and I know that a lot of these services are supporting individuals with chromosome conditions so we want to make sure that they feel included and really special. We just want to raise as much awareness as we can, but we also want to hear from others, their stories and all the things that they do to overcome these challenges.
​
With special thanks to Laura!
We would like to say a huge thank you Laura, our Norwich Branch Manager for taking the time out of her busy work and parent carer life to shine a light on her personal experience of what it is like to care for somebody living with a chromosome disorder and becoming a parent carer. Whilst also spreading awareness and understanding of rare chromosome disorder alongside our Norwich branch.
We can't wait to hear more on how Carter is thriving and combating his chromosome disorder whilst living the fun but messy life of a 5 year old!
​
How you can help raise awareness for Rare Chromosome Disorders?
There are many fun ways you and a loved one can help raise awareness for rare chromosome day on the 22nd of June! Head over to rarechromo.org for fun ideas listed in 'Unique 23' and helpful tips on how you can contribute for living with a chromosome disorder.
As Rare Chromosome Disorder affects many people around the world, together we can help to make a difference! So let us work together to support families affected by this disorder and check out the amazing charities out there spreading awareness - geneticallianceUK being one of them!
​
Considering extra support for your loved one?
Care at home offers a wide range of services, both medical care and companionship support for those who need it most. We offer an array of bespoke care packages for people living with conditions such as chromosome disorder and maximizing their independence.
We understand that caring for a loved one can have its ups and downs, sometimes it can be tough but it's always incredibly rewarding. However sometimes it's good to take a break and let one of our dedicated carers step in and give you a hand.
Our homecare services offers tailored packages for your loved ones' specific care needs and support.
If you're interested in finding care for your loved one or just want to hear more on what type of homecare service is best suited for you, please please get in touch!
​
Posted-on June 20, 2023 By Nurseplus Care at home